Gain Peace of Mind with APOLLO Predictive Maintenance Technologies
October 19, 2022
Unreliable equipment invariably leads to costly downtime, lost production, and expensive repairs.
Predictive maintenance technologies provide stability by utilizing a proven approach to enhancing the reliability of everything from electric motors to chillers. In turn, more reliable equipment provides you and your team with some peace of mind.
What if there was a way to provide substantially more–even double–reliability and peace of mind? The APOLLO Predictive solution from HECO delivers just that!
Predictive: A Quick Review
Let's take a step back and talk about Predictive.
When implemented correctly, Predictive allows maintenance and production professionals to rest assured that nothing unexpected will happen with their equipment. The technology warns you when the signs are present that indicate a failure may occur soon.
The successful integration of Predictive is evidenced by its growing market. Statista reports the PdM global market is expected to increase from $4.5 billion in 2020 to $64.3 billion by 2030.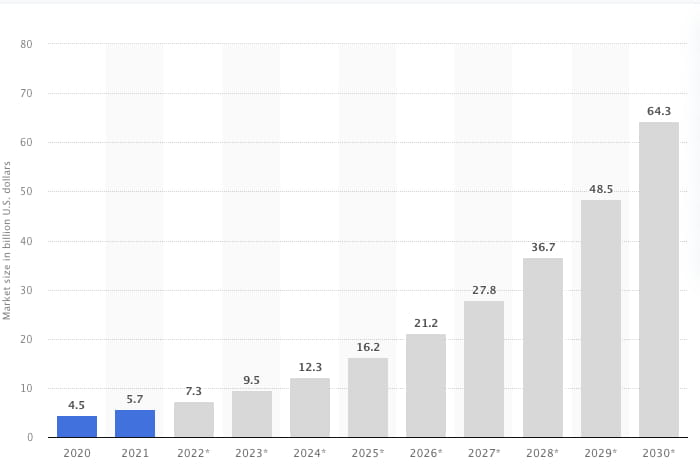 Increasing Predictive global market
Utilizing Predictive also reduces the need for manual tasks, checks, and rounds while providing far more visibility into the health of assets. This health information alone is invaluable because of its ability to inform cost-intensive decisions such as whether to repair, rebuild, or replace expensive assets including large motors or pumps that are critical to production.
Predictive also delivers enhanced equipment reliability which helps with quantifiable measures such as MTBF (Mean Time Between Failures) and establishes a reputation for dependability for you, your team, and your facility.
The ability to schedule maintenance and repair tasks rather than waiting for a failure to schedule itself is also possible with Predictive.
Using this approach, scheduling can be arranged based on the priorities of your facility to:
Minimize the impact on production.
Minimize downtime.
Wait for the right people to perform maintenance and repairs.
Ensure the safety of your workers.
Adjust to the expected lead time for parts.
Predictive is an excellent approach to maintenance, but here at HECO we've created a solution that enhances basic Predictive and remote condition monitoring to further increase reliability, all while helping reduce you and your team's stress levels.
HECO's Solution: APOLLO
APOLLO is an IoT-backed Predictive solution that generates value in the form of early failure detection. This system continuously monitors your equipment for potential issues, including electric motors, pumps, gearboxes, fans, compressors, and chillers.
Remote condition monitoring, a crucial part of the APOLLO system, gathers the asset condition data through sensors. Then, the APOLLO system analyzes that data for signs of problems such as excessive vibration or significant temperature changes.
When the machine health data analysis indicates a potential fault, your team is alerted, giving you the ability to choose how and when to address the machine fault.
Generating Value and Peace of Mind
Four key value drivers provide APOLLO users peace of mind, including:
Asset Health Monitoring – Continuous remote condition-based monitoring identifies equipment issues before they occur. System observation is powered by tools from our partner, relayr, a German company specializing in effective IIoT, or Industrial Internet of Things, solutions.
Asset Inspection and Reporting – Detailed reporting provides you with the information you need by integrating industry-leading asset inspection and analysis.
HECO Service and Domain Expertise – Tailored services are provided to meet customer-specific needs including HECO's EASA-certified repair, replacement, and field service as well as effective equipment management.
Performance Guarantee – If APOLLO indicates regular operation and the equipment still fails or underperforms, the warranty will pay to repair or replace the equipment.
Worry-Free Warranty
One of the outstanding aspects of APOLLO is the warranty backing it. This warranty provides facility managers another layer of stress reduction by guaranteeing an asset pool against potential issues with failure or event detection.
If the equipment fails or underperforms while the APOLLO solution indicates normal operation, HECO will pay to repair or replace the equipment.
Furthermore, simplified claims are backed by HSB, the largest industrial equipment breakdown insurer in North America, through a special services agreement that includes a dedicated claims team and guaranteed response times. Once the initial warranty assessment is completed on all of your assets with sensors, they are included in the insurance policy, providing you with additional peace of mind.
All Systems Go
Not all IoT-backed Predictive solutions are created equal. At HECO, we stand by our APOLLO Predictive solution with unwarned event insurance that demonstrates its technological superiority as well as the power and accuracy of the analytics platform behind the technology.
Not only that, APOLLO leverages the latest in IIoT technology to simplify data retrieval, organization, centralization, and analysis.
If you're ready to move to a cutting-edge, IIoT-backed Predictive maintenance solution that generates value and leverages HECO's experience in asset maintenance, repair, and management, contact us today about APOLLO.
Posted in Predictive