Long-term solutions for long-time problems
All stories have a beginning. Ours starts here.
HECO was launched in 1959 by Terrell Hatfield. His vision was for HECO to be a customer-focused, problem-solving organization that would earn a reputation for expert repair, sales, and equipment management.
To get the business going, he knew he had to prove he was better than the other guys. So, when he went into the papermills that dotted the landscape around Kalamazoo, Michigan looking for motor repair work, he threw down a challenge.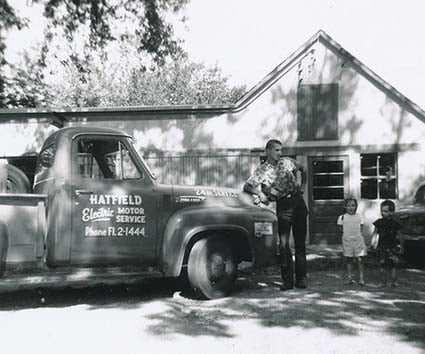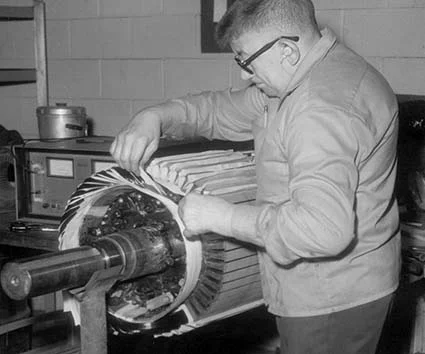 Times change. The story doesn't.
Still today, HECO is proving itself by taking on the toughest tasks: by asking for the motor that, no matter how many times you send it out, keeps causing problems. And still today, before we offer answers, we ask questions to find out why the problem occurred in the first place.
Here's another thing that hasn't changed. When a motor comes in for repair, we just want to see it once. We don't want to see it again. We have a reputation to live up to: when HECO fixes it, it's fixed.
It's who we were, are, and always will be.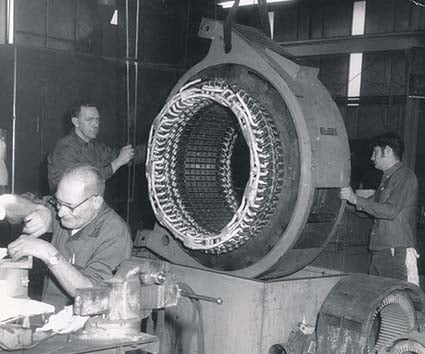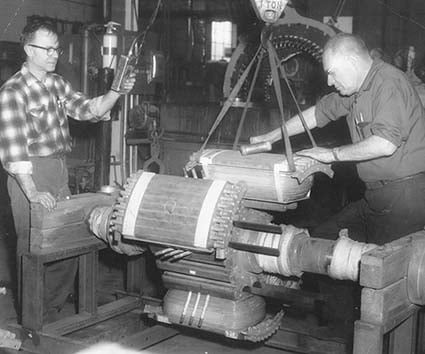 "Give us the toughest motor problem you have. Give us a chance to solve the actual, root problem."
Where we've been.
Hatfield Electric Company was founded by Terrell & Joyce Hatfield. The property located on Superior Avenue, Kalamazoo, MI consisted of a double lot with a house and two-car garage. Ralph Hatfield, Terrell's father, became a partner in the late fall of 1959.
Sold property on Superior Avenue and purchased 3 1/2 acres on South Burdick and started the plans to build a new plant and office at 3509 South Burdick Street, where HECO's headquarters remain today.
With three additions completed between 1968 and 1975, Hatfield Electric became the largest independent electric motor sales & service center in Michigan in both square footage and personnel.
Name changed from Hatfield Electric Company to HECO Inc. Industrial Service Groups.
HECO completes it's "High Bay" expansion allowing for repairs of motors weighing up to 50 Ton with provisions for motors weighing up to 100 Ton.
Mark S. Hatfield, Brad S. Hatfield, and Todd A. Hatfield purchased the business from Terrell and Joyce Hatfield.
HECO offers its first internet-based equipment management software.
HECO releases the TracRat Equipment management software.
HECO acquires Predictive Maintenance Services Inc. (P-M-S-I) and forms HECO Predictive Service Group (HECO PSG) offering vibration, alignment, and balancing services.
HECO acquires Integrated Maintenance Technologies (IMT) and merges it into HECO PSG.
Mark S. Hatfield purchases remaining shares from Brad S. Hatfield and Todd A. Hatfield to become sole shareholder.
HECO acquires the assets of the former D.M.S. Electric Apparatus in Kalamazoo, MI.
HECO acquires Kentucky Service Co. of Lexington, KY and forms HECO Kentucky Service Company to serve S. Ohio, S. Indiana and Kentucky Clients.
Take Advantage of Our Resource Library
Download a Free E-book Today!
Our E-books provide tips and describe steps to take that will help you minimize downtime and keep your plant running.
What to Look for in an Electric Motor Repair Shop
How to Get the Right Electric Motor
Reliability Maintenance is Good Medicine
Electric Motor Field Service: Is It Right for Your Facility?
NEMA Electric Motor Frame Standards
  View All E-books