HECO's Doug Moore presented with Exceptional Achievement Service Award (EASA)
July 1, 2021
Kalamazoo, MI; Lexington, KY; Ft. Worth, TX
HECO is excited to announce that one of it's team members, Doug Moore, was presented with the EASA (Exceptional Achievement Service Award) at the 2021 Electrical Apparatus Service Association (EASA) Convention in Ft. Worth, TX.
The Exceptional Achievement Service Award recognizes individuals who have provided exceptional service to the electrical apparatus sales and service industry. Individuals nominated must have rendered exceptional service to the electrical apparatus industry on a local, national or international basis. Nominations must include specific reasons for the nomination and be accompanied by at least three corroborating letters of recommendation. The final selection of the single award recipient was at the sole discretion of the International Nominating Committee of EASA. Since the award's inception in 1997, there have only been 23 other recipients.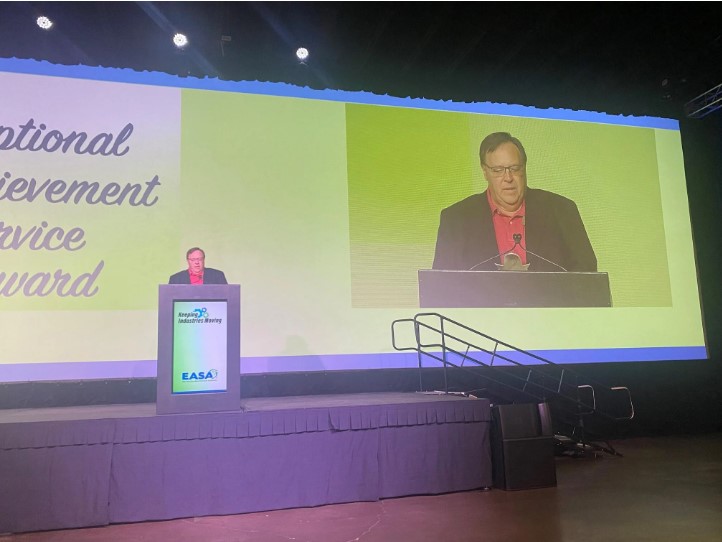 Doug has been in the electro-mechanical industry for over 40 years. An active EASA member, Doug served as EASA International Chairman from 2014-­2015, traveling for weeks at a time and to Europe twice for the association. As chairman, Doug brought the internationalization of EASA to fruition. "One of the best things about EASA is meeting people from all around the world and learning their experiences and perspectives," he notes. "Our challenges might be different, but the more we talk, we find we face similar issues and we can learn from each other's successes." Doug served EASA as Regional Director beginning in 2009 and on EASA's Technical Education Committee from 1998-­2018. Doug is very active in his local chapter of EASA in Louisville, where he is a lifelong board member. Doug pointed out that there was no training for motor shop employees. He was then contacted by the chairman of the Technical Education Group to help address this. Doug worked to develop a training program from EASA Vo-­‐Tech to the Fundamentals Series, 5 volumes of which are now used internationally.
In May of 2021, HECO Acquired Doug's life-long business, Kentucky Service Company to form HECO Kentucky Service Company. Doug has transitioned into a Technical Advisor role where he can continually advise clients on electric motor and pump issues/problems. "When it comes to helping our clients, I'm committed to finding the root cause failure for an issue so that it is fixed for good," said Moore.
Posted in Uncategorized